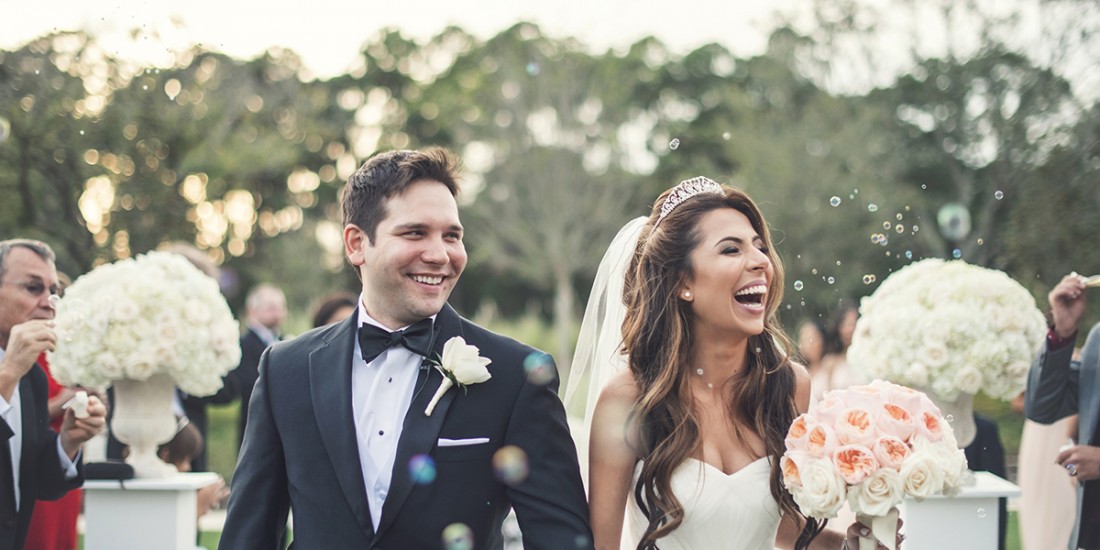 Maryam and Derek luxury wedding was held at the Four Seasons Resort in Orlando, FL. This fun loving and incredible couple were all smiles and giggles on their wedding day. Here are just a few of our favorites.
How did you both meet?
In the elevator in our building in Miami.
How did your husband propose?
Derek proposed following a private plane ride. His friends had spelled out "DEREK LOVES MARYAM" in bright letters on the beach, which was visible on air. He proposed shortly after. So romantic!
What was your wedding inspiration? (think decor, overall theme and feel of the day, etc)
Romantic, classic and elegant.
Describe some of your favorite wedding details and how you came up with them.
Our flowers! After numerous meetings with my mom and Jesus (Raining Roses floral designer), we came up with my dream flowers and they were absolutely perfect on our wedding day.
Please describe your cake (if any):
4-tiered strawberry shortcake designed by Four Seasons and decorated with flowers by Raining Roses.
Any advice for those planning their wedding now?
Enjoy the process and have so much fun planning it together. It'll be over before you know it and you'll end up missing those days!
Which moment are you the most excited to see in photos?
Walking down the isle after saying our "I do's" as husband and wife.
What song did you walk down the aisle to?
"A Thousand Years" by Christina Perri
What are you most looking forward to as a married couple?
Coming home to each other every day after work. 🙂
What did you like the most about working with KV Photography?
We fell in love with Val and Ed during our first meeting with them and loved working with them throughout our wedding planning.
ORLANDO PHOTOGRAPHERS ORLANDO PHOTOGRAPHY FOUR SEASONS WEDDING PHOTOGRAPHY FOUR SEASONS WEDDING PHOTOGRAPHER